Canadian RV Mats is more than that.
We started with one product but we have quickly expanded our products to include more.
At Canadian RV Mats, we started years ago with the simple idea of making a better mat for our own campsite. We were tired of all of the products currently on the market.
So we went to work with these simple ideas in mind:
A mat that was easy to dry and not get moldy
A mat that doesn't smell after being stored, even if it is still damp
A mat that can stretch the length of our RV.
A mat that can be staked in place and not move.
And best of all, a mat that doesn't kill the grass beneath it.
With our success we have been able to grow our products and our selling partners to over 200 across Canada.
Check our the rest of our Products and watch for new ones.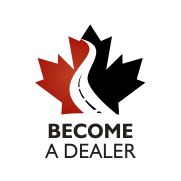 Become A Dealer of Canadian RV Mats
Are you in RV & Trailer Sales?